How To Hack Facebook Account Password Without Software | Facebook is co-founded by Mark Zuckerberg and his Harvard Mate Eduardo Saverin on 4 Feb, 2004. Since then Facebook is breaking all records ever held by any other social media platform. Facebook reach one million users in Oct 2012 after just 8 and half years of its making. Facebook also recently claim to have 600 million active users on daily bases. Facebook turns into the addiction for many of its users.
Facebook offers very good security measures which enhance the trust factor of its users. But despite very good security measure hackers are using various techniques to hack facebook accounts.
Most of the hackers are doing it without the help of any kind of software. They use conventional hacking tricks to gain someone's FB id password.
How To Hack Facebook Account Password
Without Software 
Do you want to know "how hackers hack Facebook Account password?" If yes, then continue reading.
Disclaimer: All information shared in this article is to educate people. So, they can be smart enough to avoid hackers in future. Hacking someone's personal Id is an illegal act. We are not responsible for your act and behavior.
Also Read: How To Hack Facebook Account Using CMD
Before starting to tell you about FB id hacking tricks. I will introduce you to two types of Facebook hackers.
After hacking they immediately change a password. They can leave messages on a wall to contact them or ask for money to regain your account. Simple they are the ones who don't need anything from your account or simply try to destroy it. They mostly do it for recreational purpose.




 

The second type is more dangerous. They will not change your password. These types of hackers want information about you or they are interested in your Facebook activities. They can remain undetected for long periods of time.
So let's learn "how hackers can hack your Facebook account" so we can stay save our accounts from any possible hacking technique.
Reset an account Password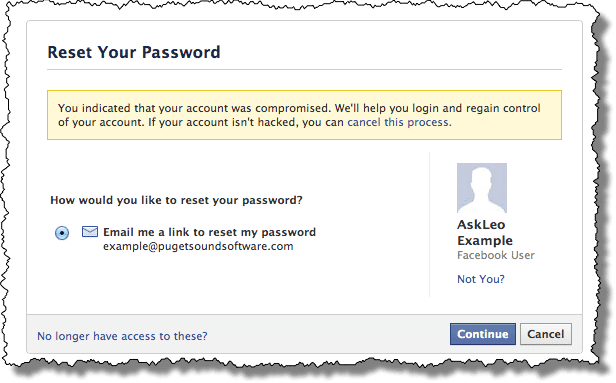 This is the most widely used technique to gain access of someone's facebook account. People often do this are very close to you. Either relatives, friends or roommates. This is because most of us share our mobile/laptop security codes with close ones. They can easily open your laptop and reach saved account or email id attached to that account.
If they found your Gmail account logged in then it will just take few minutes to hack your account. Same happened when you use your mobile number as your account id. They can simply ask for code using your own mobile and delete the text after hacking your account.
They can also use other ways which are as

follows

.
The first thing they need is email is attached to the account. The attached email id can be seen under your profile's contact information.

 

They would then type this id and try to log in it with any password.

 

Hacker would click forgotten your password to reach another window.

 

On this window. He is asked to confirm email address again. After entering an email address.

 

He can see the facebook account attached to this email address.

 

He will see few different paths to recovery. Hacker will select one from two given methods. Either he selects No longer have access to these Or Recover account with help of friends.

 

He can simply give another id if he chooses the first option in above-mentioned step. Facebook might ask him some security questions. If a hacker somehow answers them right. He can reset and log in to your account after 24 hours.

 

If he chooses to recover with the help of friends. Hacker can select the accounts he owned or other people who are involved with him in hacking. Or they can set up this by adding you to 3-5 fake accounts to use them later for hacking purpose.
How to Protect Yourself from this type of

hackers
Hide email address and phone number connected to your Facebook account.

Always log out your id from mobile/laptop especially when people knew your mobile/laptop passcodes.

You can also change your laptop/mobile passwords.

Choose security question wisely and make it as hard as possible to guess.

Set three trusted friends to recover your account.
Most of the time, this type of hacking trick is used by the group of friend or siblings to hack an FB account. Usually, these hackers are amateurs. They often used the hack accounts faking themselves as original person.
Phishing
Phishing is one the most used techniques to hack Facebook accounts online. The technique behind phishing is simple. You just have to create a page which looks exactly like facebook login page. Then upload it to a hosting and choose somewhat similar or distorted name which sounds and looks like facebook. Then send this link in the personal message. You can only gain email id and password if target opens your link and enter his own detail.
Though phishing seems easy most of the users are already on alert against phishing. You can take a look at this article to make Phishing page for Facebook.
Protection against Phishing
Don't click on suspected links through email or facebook inbox.

Make sure that url of the link asking you for facebook credentials is also facebook.

Phishing can also be done through links placed on videos, websites and pop up ads.
Plain Password Grabbing Trick
In this technique, hacker attacks another website to gain a Facebook database of users. These websites are not as good as Facebook in matters of security. Hackers can also create websites for Plain password grabbing. They will ask you to sing up on their websites. Most people do a common mistake while signing up. They use the common email id and password for every sign up. So hackers save these emails and password and counter check them to gain access of facebook and other accounts on same email id.
How to Protect yourself from Password Grabbing technique
Don't trust third party websites.

Don't use similar passwords for singing up on multiple platforms. Always use a unique password for every sign up.

Don't use your facebook password on any other website.2Social Engineering
Social engineering
This is by far one of the most common techniques used for hacking facebook accounts. Social engineering is acting like a person or a company to fetch some important information from other source. They can used Spoofed email ids to fake themselves as a friend, service or brand in this case Facebook itself. Most common cases are sending an alert email informing the victim to reset the password using this link because of attempts made to hack your account. Hackers have all information about facebook id and password if user login in his credentials in the given link.
These can also be spoofed emails to fill your security questions and other details related to facebook accounts. Hackers can use all this information in resetting your password by clicking forgotten password on the login page. They can also stalk you to get your mobile number, date of birth, girlfriend's name and other things to try it as your password.
How to protect yourself from social engineering
Don't use one word passwords which can be guessed by social engineering.

Never ever use you mobile number, date of birth and other common things, names of people around you as your password.

Never use common answers to security question i.e. Pet names, teacher's name.

Activate login alerts on your mobile.

Make sure you change your password now if it falls in any of the above mentioned weak password categories.
I hope this How to hack facebook account password without any software guide will help you to keep your account safe and sound.  Don't try to harm other by using above-mentioned fb id hacking tricks and techniques. Always educate yourself and learn new things hackers are using. I encourage you to also learn about Fb hacking software used by hackers and how to prevent it.
Also Read: Download Facebook Hacker Pro V.4.4 Free 2018
In the end, I advise you to set up some tricky security questions as two-step security verification on every login.You can also see active devices you are using for facebook. You can also force log out using the same option of active devices under security settings in facebook.
Share your knowledge and experience with other users in comments. You can also ask us anything in a comment.
How To Hack Facebook Account Password Without Software, How To Hack Facebook Account Password Without Software, How To Hack Facebook Account Password Without Software, How To Hack Facebook Account Password Without Software, How To Hack Facebook Account Password Without Software